Environmentally Sustainable Firewood
Locally Sourced, Kiln Dried (Seasoned) Firewood To Your Door
I am David Ward and I specialise in the supply of locally grown, kiln-dried firewood in South Shropshire, North Herefordshire and North Worcestershire.
I have a custom built delivery vehicle fitted with a crane designed specifically to deliver to your door. The crane can reach over garden fences and walls and into garages or outbuildings in many situations, dropping the wood exactly where you want it.
Despite floods and snow I have never missed a delivery to my customers.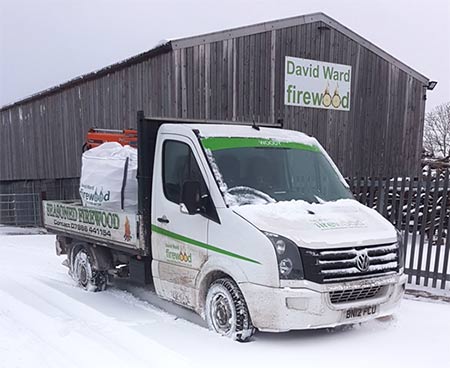 Customers Trust David Ward Firewood
The wood that David Ward Firewood uses is entirely sourced from local woodland. I supply the firewood in 1.2 cubic metre showerproof bags made of 100% recyclable polypropylene.
I know the provenance of all the wood that we work with and have the relevant licences to prove the legality & sustainability of our logs.
My firewood is kiln-dried hardwood, seasoned hardwood or a 50/50 mix of hard & softwood. The standard log size is 10 inch but we can cut to the size you specify. I can also provide bags of kindling to help get your fires burning quickly and smoothly.
When you buy David Ward Firewood, you support the people who live and work around Ludlow. You are investing in local jobs, local woodland and helping the conservation of the British countryside.
I have a zero-waste policy from forest to fire. I use all of the unsaleable wood to fuel my kiln.  All the sawdust we produce goes to a composting facility and is used in gardens across the country.
Our packaging is 100% recyclable polypropylene.
I only supply locally sourced wood as it makes it easy to maintain high-quality.  It also means that I know the origin of every tree harvested to make firewood logs.  Local sourcing, production and use of firewood helps to keep your fuel 'carbon neutral'.
Given concerns about global warming, we want to ensure the wood we supply is not being shipped from other countries, transported hundreds of miles and from unknown and unregulated sources.
Buy Local Firewood From David Ward Firewood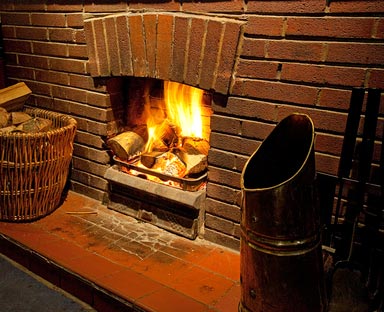 I only source local wood and as a result, can ensure a consistant supply. Aiming to deliver all orders within a few days, I am proud to say that I have never run out of wood, no matter what the winter throws at us.
If you want affordable, locally sourced, high-quality & environmentally-friendly firewood this winter, delivered FREE to your door, contact David Ward Firewood.
"I am happy to discuss your firewood needs at any time. Call me now."
Our Firewood products
Large 1.2 M3 Bags (Showerproof, Reusable & Recyclable)
FREE Delivery To Your Door
Domestic Service Our Speciality
Firewood Options
Kiln Dried Hardwood
Standard Hardwood
50 / 50 Hardwood & Softwood Mix
Kindling
Contact David Ward